PAXbaby.com
Have you ever been in the position of having to justify to someone (say, a spouse…) why you have multiple carriers?  OR, have you ever wished that you had a spare as a backup for when you get to the park with the toddler and infant and realize that your trusty Beco Butterfly is on the couch where you left it after doing laundry?
PAXbaby.com
As always, PAXbaby is here to help with our "Top 10 Reasons to Have Different Types of Carriers" list!
PAXbaby.com
10.  Your toddler has decided to rate sitting in a shopping cart right up there with fingernail trims as things that aren't going to happen NO WAY NO HOW, but you HAVE to grocery shop, and there's no way you can manage with a small person running amok in the store!  To the rescue?  A small and lightweight pouch sling kept underneath the driver's seat of the car for such an occasion–they shine in hip carries and you can keep that picky little one right at your side the whole time!
PAXbaby.com
9. You're enjoying a rare Saturday afternoon at the mall with a friend and her newborn.  But the poor babe wants lots of snuggles instead of stroller time, and mom's arms are getting tired.  Rather than cutting the outing short, grab the your trusty Maya Wrap ring sling doing double duty as the  toddler's blankey in your car and show the tired new mama how to keep her baby close and happy while enjoying some hands-free time!
PAXbaby.com
8. Baby is sick.  Husband is sick.  You're not feeling so hot yourself.  Your poor little one has already thrown up on your trusty ring sling AND the well-loved SSC in your stash.  Grab that kiddo and wrap her up in a snuggly yet supportive Gypsymama Bali Stretch wrap!  Wearing a sick kiddo skin-to-skin in a carrier can actually help lower fever (your larger body will serve as a heat sink to draw her excess heat off) and relax you both.
PAXbaby.com
7. You load up several packages in the basket of your double stroller and take a leisurely walk to the post office.  Upon arriving, you realize that your stroller DOESN'T FIT THROUGH THE DOOR.  (Yes, this has ACTUALLY happened to me!)  You grab your Boba out of the stroller and put your toddler on your back and have your preschooler carry one box "to help mom out," leaving your stroller outside.  Yeah, you have to worry about someone swiping it… but you can rest assured knowing that your most precious of possessions are right in there with you.
PAXbaby.com
6. You're busy "reasoning" with the toddler while trying to get him out of the car.  Without realizing it, you close the door and the waistbelt of your trusty Babyhawk OhSnap! gets caught in the door and shatters.  You email Babyhawk and they're immediately helpful, but while you're waiting for their excellent customer support to repair your error, what do you do for a carrier?  It's always nice to have a trusty and reasonably-priced Boba Classic in your stash for such occasions!
PAXbaby.com
5. You're helping out on your preschooler's class trip to the pumpkin patch.  There's no way a stroller could navigate the muddy rutted paths, so you plan on wearing your little one snuggled up close to you in your comfy warm Moby Wrap, leaving your hands free to help your older child and her classmates as they find the PERFECT pumpkins to take home with them.  20 minutes into the trip, you hear a series of familiar sounds emanating from your little one and warning bells start to go off in your head.  A quick trip inside reveals the ugly truth…  the diaper's toast, the outfit is toast, and the Moby is toast too.  You can clean up the initial mess… but what do to about the rest of the field trip?  Happily, you dig the Freehand meh dai out from under the front seat where it's been living, waiting for its moment in the sun, and your day–and that of your preschooler–is SAVED!
PAXbaby.com
4. You've decided to put together that disaster preparedness kit that you've been meaning to work on for several years, but you realize that now you have kids, its contents will need to be much more creative!  Toss in an inexpensive but comfortable ring sling or pouch sling that can be used with various sizes of kiddos in various positions in a pinch… but it won't hurt too much to have it languishing in a box for months on end either.  If you hit the point where you don't have any kiddos small enough to wear, keep it in there anyway–you never know what use you might find for it in an emergency!
PAXbaby.com
3. You're at a playdate with a friend and her little ones.  She mentions how heavy her six-month-old is getting to carry around in the infant car seat, but the Bjorn she got for a shower gift causes her so much back pain, and she guesses the "babywearing thing" just isn't for her.  There's no way you can get through a day with your own infant without a carrier, but since you have extras, you lend her your FABULOUS and well-loved Beco Butterfly 2 so that she can feel comfortable AND stylish while carrying her babe around!  No more back and shoulder pain for her, and she later tells you that her chiropractor thanks you as well!
PAXbaby.com
2. It's late afternoon and your kiddo who has recently dropped his nap is having a minor meltdown that's quickly escalating to the major stage.  A nap might be called for… but then bedtime will much later than YOU want to stay up!  Quiet him down by telling him that you're going to pull out something special–the super special Superman Babyhawk!  "It's only for SPECIAL times, sweetie–do you think this is a special time and we should use it?"  Pop him on your back and go for a short walk to recharge everyone's batteries with some fresh air!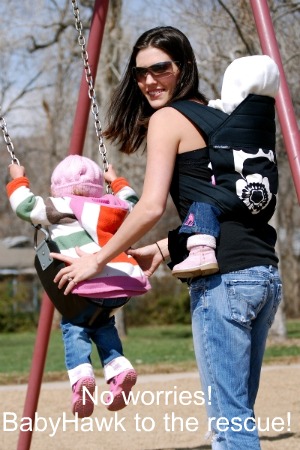 PAXbaby.com
1. You're having one of THOSE days.  You've been in the same pair of jeans for three days straight, you can't remember the last time you got your hair cut, and the last you saw of your makeup was when the kiddo was gleefully painting with your lipstick.  YOU need something fresh, something different, and something fun!  Treat yourself to a custom carrier from PAXbaby's Pimp My Carrier program so that you can find something that makes YOU smile!!
PAXbaby.com
PAXbaby.com