paxbaby.com
At PAXbaby.com, the PAXmamas get lots of emails every day from new wearers asking about their carrier options!  One option found at your local big-box baby retailer is the Mamas and Papas Morph.  We reviewed it previously here, but wanted to offer a few options for comparison!

One of the Morph's features is that it can be switched from user to user.  The Beco Butterfly 2 carrier also allows this with its unique internal panel system and retails at the same price point; unlike the Morph, it can also be used to carry an older infant or toddler on your back, and it has a 45lb weight limit, unlike the 25lbs of the Morph, giving it greater longevity!  It also doesn't require any additional pieces to be purchased to be used between multiple users and fits wearers from a size 0 to a size 28 comfortably while still offering easy adjustability!


The Morph also allows the baby a chance to face out.  The Beco Gemini is a good carrier for this that costs less and again allows more carrying positions; however, we also feel that the hip or high back carry options are better choices for babies who need to see the world a little more.  It has a $129 price point and a 35lb weight limit, which again will give greater longevity over the Morph!


Both carriers are soft and comfy for newborns and the BB2 will pack small enough to fit in a diaper bag.  Both also offer the benefit of quality ergonomic design for both baby and parent; studies have shown that the most physiologically correct position for an infant is an upright "spread-squat" position so that their lower bodies form an "M" position.  All of the carriers we sell help maintain this positioning for babies and offer support for them as they grow.  In addition, the structured waist belts allow the child's weight to be supported on the strongest part of the wearer's body when carrying a heavy load: the hips.  This is especially true for moms, as our hips are designed to do work (childbearing being one of the big pieces of work!) that men's bodies don't have to do.  Carriers like the Morph and the Bjorn distribute weight directly on the shoulders and are therefore often more comfortable for men, who tend to carry more strength in their upper bodies, but even big strong daddies often look for something more comfortable pretty early on!  Due to this design, these carriers can cause back pain the heavier babies get, often prematurely ending babywearing days which can otherwise stretch into toddlerhood!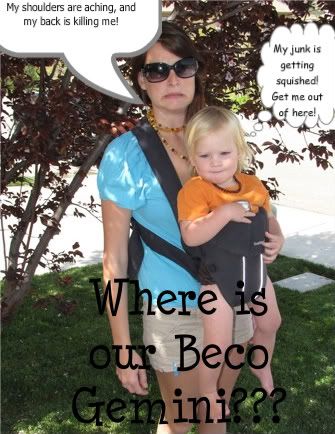 At PAXbaby, we encourage you to REJECT uncomfortable and short-lived carriers in favor of something that you'll want to wear all the time!  Please let us help you find something that will work best for your needs!


*happy babywearing*