Paxbaby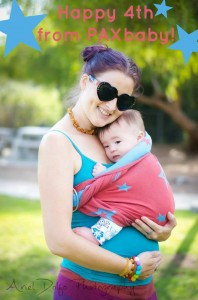 paxbaby
HAPPY

4th of

JULY!!
From, your friends at PAXbaby.com
Who will be babywearing today?
Will your carrier be color coordinated to the holiday?
Isn't KoKaDi's Drachenblut Sterne (Dragon Blood Stars) the PERFECT 4th of July wrap? 
http://shop.paxbaby.com/kokadi-drachenblut-sterne-ready-made-wrap-conversion-ring-sling/
Ring slings are especially great for Summer-time babywearing because they are small, portable, and lightweight, making them GREAT for single layer carries in hot weather.
What is your all time FAVORITE red, white and/or blue wrap?
Feel free to share your 4th of July babywearing photos on our Facebook wall, or email them in at help@PAXbaby.com.
Have a great holiday!
Be safe, and have fun!
paxbaby
paxbaby