Paxbaby.com
paxbaby
PAXmommy Karen's Baby #4 still sits comfortably on her daddy's back in her toddler Tula.
Is this photo not amazing?
Where has your baby carrier taken you lately?
Do not own a Tula yet?
Want to see what all of the fuss is about??
Have no fear:
 TULA Baby Carriers have been restocked!
Made in Poland, designed with love, and created for your comfort, the Tula is at the top of my suggestion list when most anyone asks me about buckle carriers!
http://shop.paxbaby.com/tula-baby-carriers/
Kid-friendly, daddy-approved.
paxbaby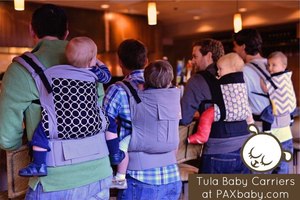 paxbaby
paxbaby