Daddy Babywearing

paxbaby
Do you have a babywearing Significant Other? Father? Uncle? Friend?
Are YOU a babywearing daddy? Grandpa? Uncle? Friend?
PAXdaddy has a few favorite carriers of his own.
paxbaby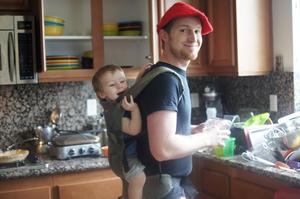 http://shop.paxbaby.com/boba-camouflage/
Nothing says manly more than camouflage, right??
The men in your life will be more than happy to wear this ultra daddy friendly carrier from Boba.
paxbaby
http://shop.paxbaby.com/girasol-ready-made-wcrs-marley/
If you are a PAXbaby.com facebook follower, you will KNOW that PAXdaddy loves his Marley WCRS.
If rainbows are too "girly", try adding a yellow or black weft Marley into your stash.
paxbaby
Here, Baby #6 peeks out from behind PAXdaddy as he goes for a ride in an Onya Outback carrier as they serenade PAXmommy Jillian.
This cool carrier also can double as a highchair whilst you are out and about!
paxbaby
While some men prefer SSCs others go right for wraps.
What does the babywearing man in your life wear??
Does he have a stash of his own?
Spill the beans, we'd love to hear all about it!!