Looking for something to cheer you up on those dreary, gray days of fall and winter? Well, an Easycare Rainbow is JUST what the doctor ordered, I am sure of it. It is hard to be glum when you and your little love are wrapped tightly in a brightly coloured woven rainbow wrap. I dare you to try it 😉
We have had our rainbow wrap for a few months now and are still using it comfortably, even with my 9 month pregnant belly in the way. I must say though, I cannot wait to do some front carries when my little pumpkin gets here in a few weeks (eeek a few weeks). We will have SO much more variety in our carries when I can use my front again. Although this wrap was quite stiff at first, it is breaking in quickly and will definitely be a part of our "perma-stash". I have heard that the orange weft Easycare is a lot lighter and brighter, and soft right out of the bag. Although this was not the case with the "new" yellow weft, I know that it WILL get that way. When we first pulled it out of the matching wrap bag (super cute btw), it was easy to see why people love this wrap so much. The rainbow colours are bright and vivid with WIIIIDE strips of each colour and… in rainbow order, which you do not see a lot when it comes to wraps. The yellow weft actually gives this wrap a bit of a vintage feel compared to the orange weft that we North Americans are used to. Although this weft change has caused a bit of an uproar in the babywearing community, I really don't see much of an issue. Same great wrap, just slightly less vibrant than the orange weft. It still wraps the same, and that was my main concern! Plus, who doesn't love a little vintage in their lives?! I know I do.
In order to start the "break in" process, I threw our wrap right into the wash, dried it, ironed it (actually husband did), let the kids use it as a hammock, and best of all USED it as a "baby pack-pack".  Fortunately, most Easycare Rainbows are soft right out of the bag, so not much "breaking in" is needed. (PS. the best way to break in any wrap, is to use it and use it a lot!).

Currently our Rainbow is kept beside the front door so we can easily grab it on the way out of the house. My husband even asked me the other day to put "that rainbow thing" on him, which was sweet. Babywearing husbands are the BEST, and ones that will wear Rainbows are even better, in my opinion! So adorable. Cupcake girl even likes to use "baby pack-pack" as a blanket for naps, when this mama actually makes use out of the stroller we have. Shhh.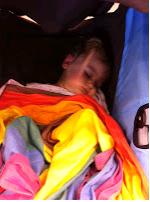 Easycare wraps are designed and woven in Austria and are made with 100% Oeko-tex cotton which provides a thin, but amazingly supportive wrap. Easycare, the company, is made up of a fantastic mother/daughter team that is focused on producing quality wraps that satisfy both their customers, and their customers babes. As long-time baby-wearers themselves they know exactly what is and isn't needed out of a baby-carrier…however, also having background in fashion, the wraps they create LOOK beautiful as well which is a bonus for sure. Easycare wraps are perfect from the get-go for use with your newborn and beyond. The great thing about a good quality woven wrap is that there is no weight limit as to how much you can carry, you could literally carry your husband… if you wanted to. That gives me quite the mental picture actually hahaha. If you end up doing that, please post a pic on the  PAXbaby Facebook page as I would loooove to see who you are carrying around in YOUR rainbow.
Wrapping can be intimidating at first, but the more you try, the easier it becomes and the more you will find yourself reaching for your wraps. You will be amazed at how many heads you will turn while out in about in this Rainbow. Nothing like giving your baby the best seat in the house to explore the world around her!
Easycare offers four sizes of wrap to fit your needs best:
                                 size 4 –  3.6 meters = 11.81 feet  = 141.73 inches (actually 3.7)
size 5 –  4.2 meters = 13.78 feet = 165 inches
                                  size 6 –  4.6 meters = 15.09 feet = 181.10 inches (actually 4.7)
size 7 –  5.2 meters = 17.06 feet = 204.72
 Most babywear-ers prefer to get a size 6 (4.6), especially when they are starting out, so they are able to do more carries, however, if you are just needing a wrap for quick trips, you can probably get away with the smaller size. How much wrap you need depends on your size, your baby's size and your needs out of a carrier…
If you are unsure about what size to order, contact the lovely ladies at PAXbaby. They are all super sweet and super knowledgeable baby-wearers and will be able to help you with any questions you might have, and will be able to talk with you and help you decide which size will be the best for YOU.
If you end up snagging an Easycare Rainbow of your own, make sure you hang on to it as these babies are long lusted after due to their quality, and versatility.  Hey…. when your kids outgrow being "worn", you can always use your wrap as a blanket.
Thanks to the lovely ladies over at Easycare
for supporting this review.