The PERFECT SSC is like the PERFECT pair of jeans!  What may fit your bestie GREAT, is not going to look so hot on you because you have different body shapes – not to mention different babies, babywearing needs, and breastfeeding abilities!  When I fit a parent with a buckle carrier, it is so important to ask a few key questions that help me to narrow down their options!  Prescribing a carrier over the phone or email after getting these answers is absolutely possible, and since I don't believe in a "blanket" answer (1 carrier works for everyone) my survey is crucial for the best results!  I will ask you things like your personal stats, your baby's age, weight, and stage, your breastfeeding status, your weather… you may think that some of the questions aren't pertinent but do you know how much it tells me if you say you are concerned about back carrying!?!?  Or that you do a lot of hiking!?!?  These clues can make the difference between an okay baby carrier and the IDEAL carrier for your babywearing needs!
A quick low down on PAXbaby's favs :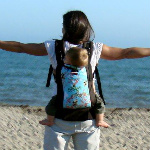 The Beco Butterfly is our hands down favorite carrier for most any baby and any parent!  Complete with all the bells & whistles, the Butterfly features an internal harness, infant insert, sleeping hood, and can carry babies from newborn through 45 pounds!  Perfect for warm weather babywearing due to the internal Y panel, and featuring a huge selection of prints, PAXbaby ? the Beco Butterfly!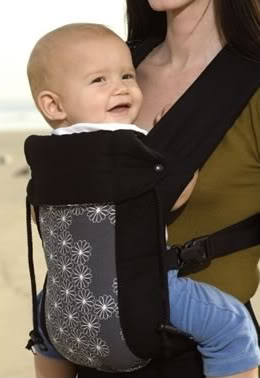 The Beco Gemini is Beco's other buckle carrier, and it is a throw back to an earlier Beco model that was well-loved!  Front carries, front facing out also, on the hip, or as a back carrier, the Gemini does not have the sleeping hood or infant insert and internal harness like its older sister, the Butterfly, but has a more streamlined look with a folding headrest and body that can become smaller for petite babies or front facing out.  Keep in mind that if your goal is to find a carrier to wear your infant now through kindergarten, the Gemini can only hold 35 pounds, but it features more wearing positions than the Butterfly!.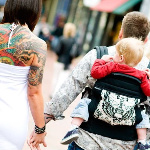 BabyHawk's Oh Snap! is a favorite at PAXbaby due to the comfortable padding in the waistband and shoulder straps, the seat darts designed for toddlers, and the cutting edge style.  The Oh Snap! is not intended to be used for carrying young babies so start thinking about the smooth ride of the Oh Snap! around baby's first birthday, and if you are larger proportioned!
Specially designed for toddlers, the Boba Baby Carrier 3G features a removable hood and also removable foot stirrups for your child's ergonomic positioning.  Comfortable for both baby and parent, from infancy through toddlerhood, the Boba is PAXdaddy's go-to carrier for our toddlers!
Want a baby carrier that will earn you the prize at the fashion show?  Olives & Applesauce soft structured carriers, or "O & A" as we affectionately call them, are just gorgeous with the attached hood, wide waistband, and curved shoulder straps.  The contour of the shoulder straps means you can back carry without using the chest strap – eliminating "babywearer's cleavage!"  These baby carriers are 16″ tall and have the new perk of a baby insert built within the O & A, for babies or toddlers up to 30 pounds!  If you are carrying extra baby weight, THIS is the buckle carrier for you!!
Scootababy is the one and only HIP carrier that we adore! It can actually be used on the front or back, but it shines as a hip carrier!  Super comfortable with a supportive waistband and soft fleece shoulder strap, the Scootababy is easy to nurse in and attractive to dads with its sleek design.
Last but not least, I can truly say that MOST parents who try the Tula, fall in love immediately and never look back!  Made in Poland with a very thorough eye for design, the Tula has been a local favorite for years and is now gaining momentum across the country and the WORLD!  Pocket, hood, comfort, the Tula is basic but thorough!  The Manduca is another favorite, but not as easily accessible to us in the USA!!!!