Breastfeeding Instructions in your Beco Butterfly II
To be able to breastfeed in your Beco carrier is the ultimate goal since, especially in those first months, a smooth transition from feeding to napping to awake time is critical. If you can succeed at keeping baby content during those transitions, you are golden and your baby is happy!  Thus, the importance of an excellent baby carrier that you can nurse your baby in easily and quickly.
With the Beco Butterfly, you can choose whichever is more comfortable for you, to nurse your baby in the upper part of the Y shaped panel or push the fabric to the center to feed baby on the outside of the panel. Either way works fine, and depending on your body structure, you will know which way is more feasible for your body type. This also depends on how many babies you have nursed and how elastic your breast tissue is!
My friend Laura found it easiest to simply push the fabric to the side, lower her nursing tank on the appropriate side, and latch on her 6 month old in a very upright position.
*
For a lower position, unbuckle the shoulder clip for the side you want to start on, and loosen the shoulder strap by pulling on the buckle under your arm or the buckle attached to the front panel depending on which version of Beco you have. Pull the Y up and out of the way, push the nursing tank down, and get baby's head low enough to be able to latch on properly. Once you have latched on, with a smaller baby, you will be able to rebuckle the top buckle to hold baby's head in place, but as your baby's noggin grows bigger and heavier, you may find that you will need to hold baby's head to support the weight and keep baby from pulling your breast while nursing. Once baby is finished, rebuckle the top clip and tighten the shoulder strap again by pulling down or away on the dangling strap under your arm.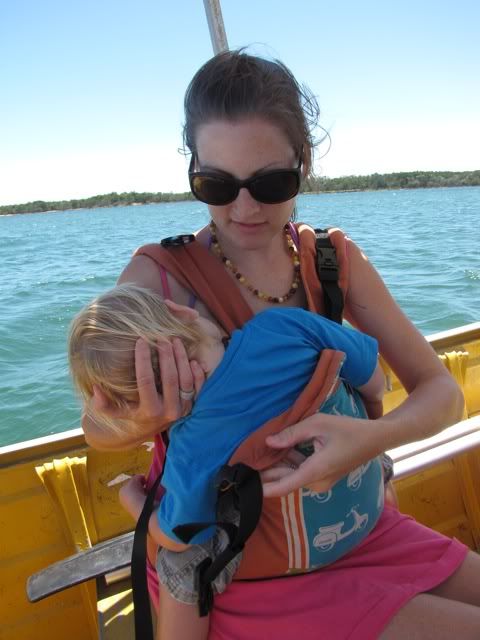 Don't worry, it's NOT hard, but you do need to get used to it.  Keep trying, otherwise, you can take baby out of the Butterfly, leaving the Y part on your body, and simply nurse your baby in your lap like you are used to.  If really easy breastfeeding is your goal, you may want to take a look at the Beco Gemini which does not have the internal insert, making breastfeeding as easy as pie!
*happy babywearing*