PAXbaby.com
What is everyone's worst nightmare on a plane???  Yep,  sitting next to – or holding – a screaming and inconsolable baby! With nowhere to go and nothing to do once up in the air, an unhappy little traveller can simultaneously break the heart of his attentive parent and break the eardrums of those sharing close quarters with him.
*cue superhero-esque background music* Parents and travelers near and far, never fear – it's babywearing to the rescue!  Take it from this adventurous mom, it's all about the right carrier for the job!  My all time favorite carrier is the Wrap Conversion Ring Sling, but when you go to breastfeed, you may find it to be too wide to sit in the airplane seat and nurse without baby's feet in the lap of your next door neighbor!  Try a buckle carrier instead – especially the Beco Butterfly II- for quick maneuvering and easily concealed breastfeeding! The BBII is my go to carrier for any sort of traveling or activity where baby may need to be removed from the carrier quickly.  Because of the internal panel, when baby is lifted out, the carrier remains on your body, without dangling straps or long yards of fabric hanging!!!!  It's the quickest SSC and cute to boot!
Last minute luggage re-organization in the parking lot needed!?!?  Do it with your hands free and a smile on your face!
PAXbaby.com
PAXbaby.com
Don't these lovely babywearers look happy and calm amidst baggage check in and airport security chaos?  By the way, flying with babies through both San Diego and SFO was a breeze!  The babies weren't asked to be taken out, and we only needed our hands swiped, no body scans for these moms!
PAXbaby.com
Who knew a single human being could carry a 1 year old baby, a diaper bag (thank you, Puck and Whimsy, for helping me trave in style!), a laptop bag and a rolly suitcase through an international airport without a single problem and successfully make their flight?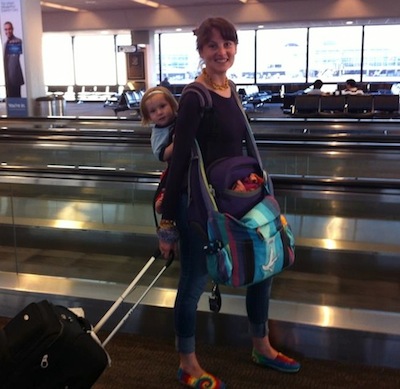 PAXbaby.com