PAXbaby.com
For all you busy parents who don't have time to bake bread from scratch, the bread machine is such an easy way to get that home cooked goodness without the fuss and muss!  I throw my Baby #6 on my back, roll up my sleeves, and 6 minutes later, can go play again!  Here's the recipe, but you may need to make adjustments for your own machine as mine  #1 – is ancient, #2 – has only a few settings, and #3 – knows exactly what I'm going to make!
PAXbaby.com
PAXbaby.com
Ingredients!
1 cup warm water – I use warm tap water!
3 tablespoons sugar – I use organic!
2 teaspoons yeast – I use regular, not bread machine!
1/4 cup vegetable oil – I want to try Coconut Oil but haven't yet!
1 teaspoon salt – I use sea salt!
3 cups flour – I use organic!
PAXbaby.com
Directions!
Put the Water, Sugar, & Yeast in the bread machine pan. Set your timer for 10 minutes, and while the Yeast gets all foamy and bubbly, pour your other ingredients into a prep bowl – Oil, Salt, & Flour.  Add the prep bowl ingredients to the bread machine pan, and set your machine to cook a 2 pound loaf on "quick bake!"  Yummy!!!
PAXbaby.com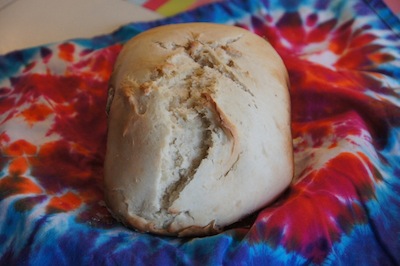 PAXbaby.com
Good luck, *happy baking & babywearing*, and feel free to tweak the recipe to suit yourself – and your own machine!
PAXbaby.com