PAXbaby.com
While babywearers old and new love the comfort of a good soft structured carrier, the ease of a slingified wrap, and the beauty of a hand woven colorway, every wearer needs the timeless reliability of a quality meh dai in their stash! Babywearing friends, look no further – now you too can add an affordable, tried and true (hundreds of years!), Asian style, wrap conversion BB Tai from Babylonia!
One of the best priced wrap conversion on the market, the BB Tai  from Babylonia is lightweight, easy to use, ideal for most babywearers and their small companions!!!  We are used to the extra extra long straps of the American brand meh dais, but the BB Tai straps are 60 inches – long enough to tie in front with a front carry, and perfect for a Lexi Twist during a back carry!!!  The body of the meh dai is a generous 18 inches wide and 15 inches tall, and the slide up headrest adds another 5 inches of height & support to last you and your little one well into the toddler years. Each waist strap in 30 inches long, allowing for accommodation of a wide variety of body sizes and shapes. What more could a baby wearer want and need?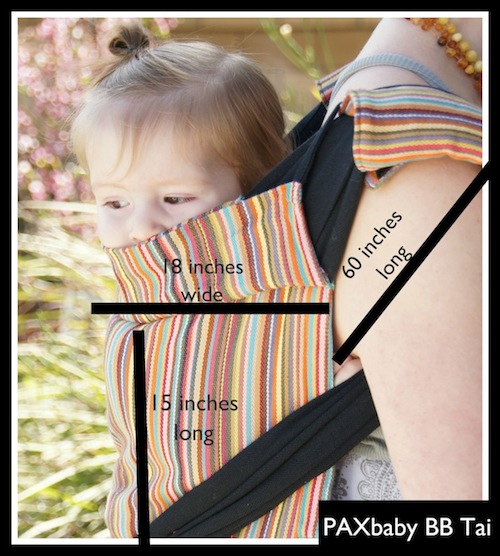 PAXbaby has these ultra cute baby carriers available in the Sling Exchange rental program if you would like to try before you buy, otherwise, take one home, and give it a go!
PAXbaby.com
PAXbaby.com