PAXbaby.com
My goodness, what don't I love about these pictures!!!!  We had such a sweet afternoon today, and these pictures show exactly how much Baby #5 loves his little brother!  My heart is melting……
PAXbaby.com
PAXbaby.com
I love Baby #6's sleepy face.
I love the colors in the Girasol Amitola woven wrap – coming soon to PAXbaby!
I love Baby #5's fireman hat – he even wears it to the pool!
I love Baby #5 holding Baby #6's foot.
I love my new rosette headband that PAXdaddy gave me for Christmas!
I love the green baskets in the background that hold my lovely stash of cloth diapers.
And most of all, I LOVE BABYWEARING!!!!!
PAXbaby.com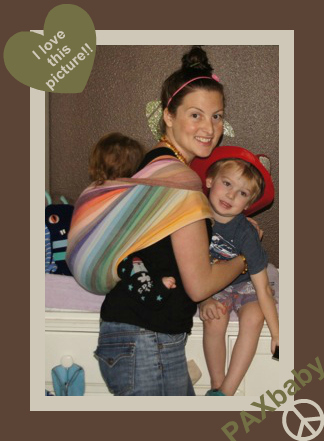 PAXbaby.com
PAXbaby.com