PAXbaby.com
This is one of my favorite recipes, some of my FAVORITE Beco Butterfly action pix,  AND favorite PAXbaby blog posts!!!!  Enjoy and please post pictures of your homemade pretzels when you try this at home to PAXbaby's Babywearing Facebook page!!!!
PAXbaby.com
I'm a black thumb when it comes to gardening, I am not much of a cook, and I can't sew a straight line worth beans.  But give me a (relatively) simple recipe to bake, and I can pull it off with (relative) success!  The only thing is, I have to be able to make the recipe while wearing the baby!  Otherwise, he ends up on the table, getting flour in his hair, and no one, not even his grandma, wants to eat a treat that he has had his paws in!
So, when I found this pretzel recipe, I decided to give it a whirl with the kids, and it was an instantaneous hit!  By the time the big daddy got home from his errands, every last pretzel had disappeared into our growly tummies!  I made a few amendments, and developed a treat version also, perfect for the holidays!  We've made this recipe almost weekly even while traveling through Australia, it is THAT easy!  Keep in mind, this recipe doesn't make traditional Bavarian pretzels, but kid friendly, delicious doughy pretzels that you can make in batches for special occasions, school parties, and just for your own family's enjoyment!  
PAXpretzels – will make 8 large or 10-12 small pretzels
1 teaspoon instant yeast
1 tablespoon brown sugar
1 teaspoon salt
1 tbsp cinnamon (less or more depending on your love for cinnamon)
1 cup warm milk (1 minute zapped in the microwave)
2 1/2 – 3 cups all-purpose flour (add more if the dough is still wet)

Preheat to 425 degrees & set a pot of water to boil.
Combine & mix the first 4 ingredients.
Start adding in 2 cups of flour, and add more slowly while stirring (beware the white poof if you add the flour too quickly!)
You're looking for your dough to go from a thick batter to a bread like dough that you can hand knead.
Spread a handful of flour on your clean (no children's tongues have licked it, please!) surface, and hand knead your dough for 5-10 minutes until the dough becomes smooth & satiny.
Cut the dough into even pieces and roll into short snakes.  Let the dough relax for 10 minutes, and stretch the snakes longer.  Shape into pretzels, roll into cinnamon roll shapes, or pinch the middle and curl the sides around into hearts.
Boil each pretzel for 5 seconds and place on a greased cookie sheet. Sprinkle each PAXpretzel with a cinnamon sugar blend.
Bake for 8-15 minutes depending on the size of the pretzel! Eat as soon as you can without burning your tongue!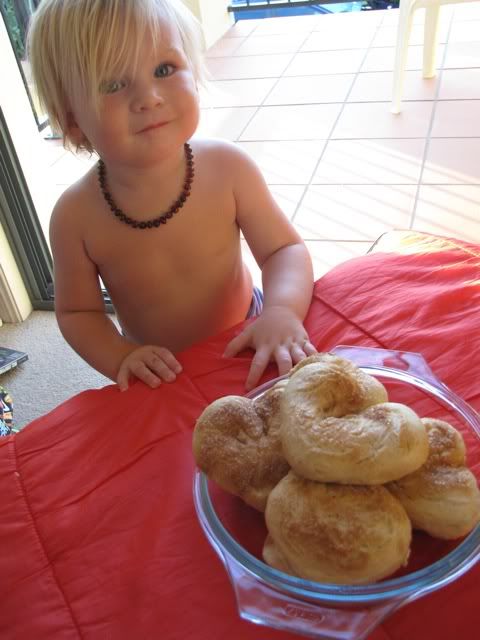 All done, mama!
Aren't they BEE-You-T-FULL???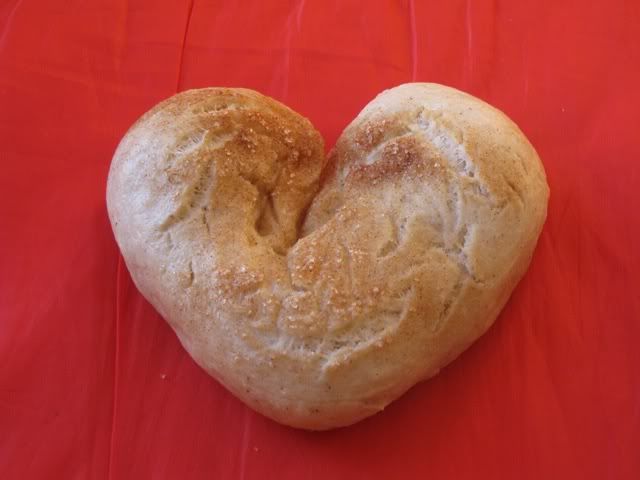 A yummy heart just for my little love!
PAXbaby.com
*happy {baking} & babywearing*
PAXbaby.com
---