PAXbaby.com
My babywearing "history" by Jessica
PAXbaby.com
With my first two kids…I tried a Baby Bjorn…YUCK! Got rid of it. It hurt my back and was terribly uncomfortable, and I had a hard time adjusting it.  Then, my mother made a Maya Ring Sling from the pattern on their website. We had a time getting the rings with the right specifications/gauges and stuff. BUT, I really didn't know how to wear it that well because it would KILL my shoulder. I still wore my first around all the time and I have pics of him in it, but I should've pulled the fabric over my shoulder and I didn't, but I didn't know.
PAXbaby.com
Then with my second baby I used my Ring Sling and I got a Maya Pouch sling, LOVED it a lot better because it naturally draped over my shoulder a bit which relieved some of the shoulder pain. I have pics of her in the ring sling AND the pouch. Still wasn't 100% satisfied with fit and extended wear but we made it work! 🙂 I also tried a Solarveil RS but still wasn't wearing them correctly so I sold it.
PAXbaby.com
Then along comes Lincoln and I start cloth diapering, then I find Diaperswappers and see ALL these people talking about Ergos and Becos…so I posted a question (what feels like FOREVER ago) about ERGO or BECO??? And I got SOOOO many responses saying to get the Beco. So I started my search and found a baby carrier store (I have NO idea which one now) that let you fill out this cool little survey with your activities and preferences and what would be most important to you and at the end it gave recommendations of what carrier would suit you best, then one of the people there would contact you through email to give personal help. The website and team member recommended the BBII for me. I about stroked when I saw the price, so did my husband. So I got back on DS and found an AWESOME mama who sold me her used Beco Butterfly II Panthers (now my Pimped out Scooters) for $81. 🙂 However, after hubby saw how happy I was with it and how much I use it and how much they go for resale he's never questioned it since!!! And neither have I!!!
PAXbaby.com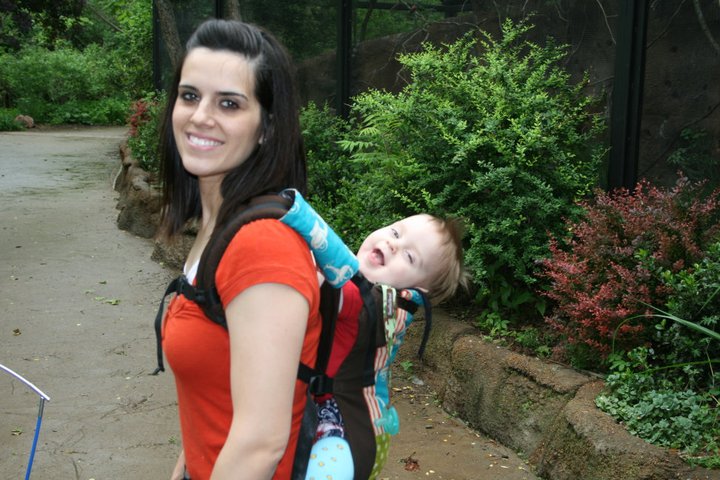 I still have my original Maya Wrap RS
THEN, I found PAXbaby! And yeesh how my little stash has expanded since then! Thank you SOOOOOOOOO much, Jillian, for all your tips and tricks, advice and helpful videos! I now I have Pimped BBII and a Pimped Gemini, a Cutie Cover, an Easycare Rainbow Ring Sling, Mai Pokettos, Strap Wraps, a Carry my Carrier bag, Mai Zoo….I'm obviously a fan of your delicious babywearing goodies, and I still have my original Maya Wrap RS! 🙂 Thanks again for helping me in my babywearing journey!!!! I'm LOVING it!!!!
PAXbaby.com
PAXbaby.com