PAXBABY.COM
Submitted by Santa Barbara mommy, Cameron Cottrell who has an amazing website and blog and could make the most boring uninteresting topic sound fascinating!  THANK YOU, Cameron, great post, and thanks for giving me a little bit of home today!
PAXBABY.COM
PAXBABY.COM
I've always been a little embarrassed to go into surf shops. I've been surfing for a while, but I'm as likely to use my board as a giant, slippery banana peel as I am to cross-step to the nose–and I have a feeling anyone working in one of these shops will take one look at me figure this out. When I have gone in by myself, I creep along the side aisles, and if I need help, I mumble and gesture and try to get out of there as fast as I can.
PAXBABY.com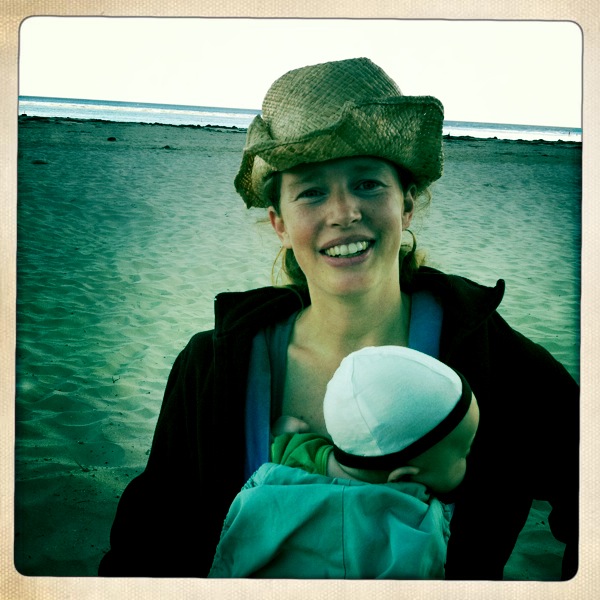 One gray day, a few months after my first son was born, I needed to get out despite the gloom. I tucked him into a bright orange wrap, and we set off for the harbor. On the way, I remembered that I needed to look at wetsuits–the one I'd hung up in the shed when I stopped surfing five months into my pregnancy was wearing thin (not to mention quite stretched in the middle). It was a quiet morning, I thought, we could just slip in and no one would notice us.
PAXBABY.COM
How wrong I was. We stepped through the back door of one shop, and instantly, I knew things were different. A burly guy whose intimidating stare I'd ducked before was beaming. "Aw, little dude," he cooed at the pair of eyes peering up over my collar. "You're awesome."
PAXBABY.COM
Well. For the next half-hour, the surf shop guy (Justin, I learned) talked about his soon-to-be-born son, the benefits of various wetsuits and a few of his favorite spots to use them. He put on a surf DVD and clicked through it to show me his favorite sequence. All the while, my little dude gazed around at the shop from his perch on my chest and Justin would occasionally stop talking to flash him a sweet smile.
PAXBABY.COM
It wasn't just here. We went into another shop–one where the employees had never peeled their eyes away from the surf videos to help me–and three people nearly jumped over the counter to help me. (I particularly liked the guy who said, "Mama, we've got to get you back in the water!").
PAXBABY.COM
I know it had nothing to do with me–it was the tiny baby in the wrap.
PAXBABY.COM
Two years later, I have a new little dude (along with several new wraps from PAXbaby!). My surfing could still use serious help. But when I pulled out my wetsuit for my first postpartum paddle-out a few weeks ago and noticed some new holes, my first thought was how much I'm looking forward to going to the surf shop for a new one–with the help of a small wrap surfer.
PAXBABY.COM
PAXBABY.COM