PAXbaby.com
This is the moment you've waiting for – taking Pimp my Carrier to a whole new level of cool – customizing your carrier with your own choice of favorite tee shirt!
Are you a rock fan?  Send me your favorite concert TEE!
Got a fabulous vintage TEE shirt just waiting for a project?  Use it to Pimp your Carrier!
Has baby outgrown the cutest onesie?  Immortalize his babyhood by turning into a custom carrier panel!!!
The sky is the limit at PAXbaby's Pimp my Carrier so come on over and get creative!  If you can dream it, we can sew it!!!
PAXbaby.com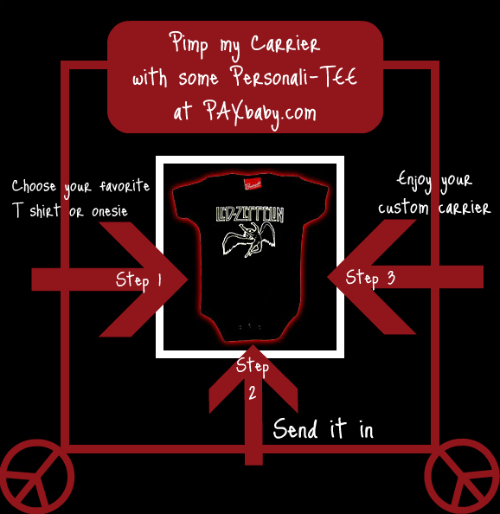 PAXbaby.com
It's that easy!  Order a customized carrier or a Cutie Cover (carrier slip cover) and add the Personali-TEE option!  You'll love the end result!!!
PAXbaby.com
Lanae wanted something a little more rock 'n roll for her hubby's Beco Gemini, so she ordered a Led Zeppelin onesie, chose the Personali-TEE option, and can't wait to show off this one-of-a-kind carrier to their friends & family on their upcoming trip!  THANKS for Pimping your carrier at PAXbaby & have a great trip, Lanae!!!
PAXbaby.com
PAXbaby.com
PAXbaby.com