PAXbaby.com
Once in a blue moon, I see something a baby carrier so gorgeous that I JUST HAVE TO HAVE IT!  OK, more often that, hahaaa, but when a friend showed me this retired Bali Breeze print, I knew that "Psyche" needed to have a come back here at PAXbaby!  She is a beautiful blend of pink and purple with batiked butterflies in a uniquely GIRLY print!  Psyche is perfect for frolicking on the beach this summer, and will make you smile every time you look at her!
PAXbaby.com
PAXbaby.com
Enjoy learning a new wrap technique from Jami at Babywearing Videos, and get wrapping!  The GMBB cotton gauze is perfect for hot weather babywearing and will keep you and baby cool in the summer heat!  Not sure if wrapping is for you?  Test it out at PAXbaby's Sling Exchange!
Thanks, Tadpoles, for the cute action shot below and a BIG hug and thanks to Laura for her fan pic above!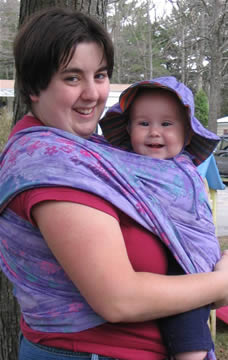 PAXbaby.com