PAXbaby.com
One of my favorite baby carriers has arrived at PAXbaby – AGAIN!  PAXbaby used to have these fabulous SSCs available but due to manufacturing difficulties stopped carrying them.  Now, once again, PAXbaby can proudly offer the Angelpack LX soft structured carrier as another wonderful babywearing option!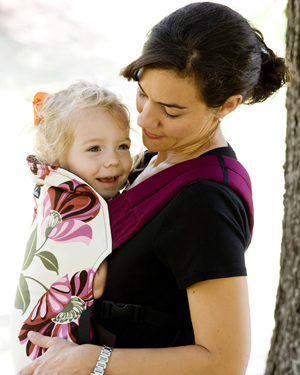 PAXbaby.com
I loved what Lindsey B. said about the Angelpack versus other brands,  "There are other baby carriers like the Baby Bjorn which has gained popularity not for its comfort or skeletal support but simply due to its common availability. I strongly urge friends, parents and grandparents not to spend another dollar on the Baby Bjorn. The Angel Pack is unparalleled in its utility and comfort (for parent and baby alike). I am spreading the awareness of this product because every baby should feel this cozy and supported and any convenience that can be offered to parents of little ones should not be kept a secret!"
PAXbaby.com
Reasons to buy and love your Angelpack Soft Structured Carrier:
PAXbaby.com
The AngelPack company is a family run company and uses green energy & organic materials in their manufacturing.
Angelpacks are manufactured in the owner's home town in the Dominican Republic giving her local people jobs at fair wages and in good working conditions.
The AngelPack baby carrier has integrated leg padding for your angel's comfort!
The adjustable straps will fit XS-XL women & men so you can share your Angelpack between parents and not worry about fit.
The Angel Pack can carry newborns, toddlers (up to approx. 35lbs.), and premature babies too.
The Angel Pack is reversible so you get two baby carriers in one!
Wear the AngelPack as a front pack, back pack or hip pack, and be equally comfortable in every position!
PAXbaby.com
And great reasons for parents to enjoy wearing the AngelPack :
PAXbaby.com
Stronger and closer bonding between parent and baby.
Keeps the baby close to your heart.
The AngelPack provides waist/hip support for the parent which is much more effective at carrying the baby's weight.
The AngelPack provides hands-free mobility to complete daily tasks and chores.
The AngelPack allows for easier and discreet nursing on the go.
You will be less dependent on heavy, cumbersome strollers.
PAXbaby.com
Fabulous reasons for babies to love being worn in an AngelPack :
PAXbaby.com
Stronger and closer bonding between parent and baby.
Baby gets a better view of the surroundings for sensory development.
Baby is being carried in a seated position which means the weight of the head is dispersed to the hip, thighs and spine – much healthier for baby than hanging by the crotch, as with some other baby carriers.
PAXbaby.com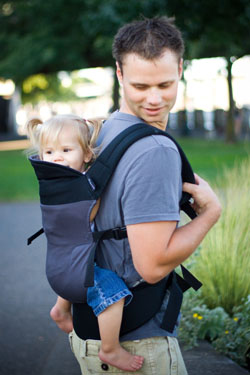 Try an AngelPack for all these reasons & more!!!!  Buy 1 or rent 1 through PAXbaby's Sling Exchange!
PAXbaby.com
PAXbaby.com