PAXbaby.com
Babywearing is great for all of our babies!  Whether you are wearing your newborn 24/7 in a stretchy wrap, or using a sturdy Soft Structured Carrier with your toddler to make a trip to Disneyland easier, babywearing saves our arms, our backs, & our sanity!!!  Thank goodness for the great variety and the wonderful styles available to us now!  When my mom wanted to wear me, her options were a Snugli (very similar design to today's Beco Butterfly actually!) or a DIY ring sling!
The moms shopping today are overwhelmed by the options and often refer to us babywearing gurus for advice!  Which is best for TALL moms, SHORT moms, sharing with DADDY, BREASTFEEDING, tandem carrying, etc!!!!  Got questions? Bring 'em on!  Jillian & her team of PAXbaby mamas can answer any question you may have!!!
PAXbaby.com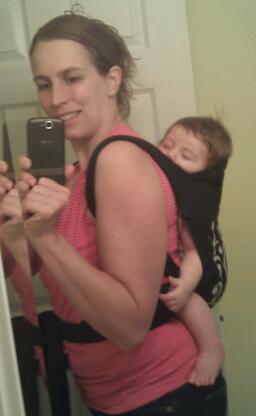 Allison enjoying a secure back carry with her 3 month old in a BabyHawk meh dai!
PAXbaby.com
Allison showing off how cute her reversible BabyHawk meh dai is with her now-7 month old in a snuggly front carry!
PAXbaby.com
Goofing around in their adorable Boba Tweet Soft Structured Carrier!
PAXbaby.com
Big kids like Allison's 3 year old love to be carried in the Boba too!
PAXbaby.com
PAXbaby.com