Don't give up just 'cause you're pregnant; keep on babywearing!!!!  You can easily buckle or tie a waistband low under the bump and a ring sling or pouch can be slung to the side to avoid the belly!  Babywearing your older child is a great way to maintain the bond between you two, and also to get a bit more exercise than you would pushing a stroller!
PAXBABY     PAXBABY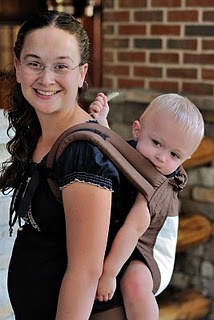 Some of my favorite babywearing-while-pregnant baby carriers are the Scootababy, the Beco Butterfly II, and the Boba.  The Scootababy is so versatile that you can start with your toddler on your hip, and as needed, you can swivel the waistband around to the back for a 1 shouldered back carry!  At 33 weeks pregnant with Baby #5, I actually went to a birthday party for a friend that we didn't know very well.  When I took Baby #4 out of my Beco Butterfly front carry, everyone was surprised because the Beco had hidden my bump so well!
PAXBABY    PAXBABY
And if you still don't believe it, look at these adorable pictures by Monkey's Mama who has a wonderful blog that you should all go follow!  She is a cloth diapering, babywearing, give-awaying mama to 1 handsome lil guy and a baby boy in her belly due in November!  She is hosting a contest to win one of PAXbaby's FAVORITE baby carriers, the Boba Organic 2G, so make sure you get on over there and try to score yourselves a Boba!
PAXBABY    PAXBABY
Here she is showing off her beautiful almost 30 week belly, her Boba, and her babyworn toddler!  Thanks, Monkey's Mama, for proving that babywearing while pregnant can be comfortable!!!!
PAXBABY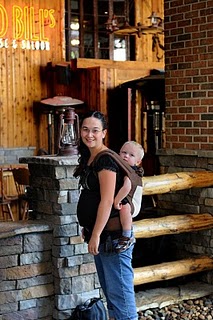 PAXBABY
*happy babywearing*