As 1 busy mama of 5 to another with 6, Kristen B and I got down & dirty talking about SSCs the other day! The result??? Kristen's new Beco love affair and another happy PAXbaby mama!

Email from Day #1
"I got the Beco Butterfly today and even just in the few minutes I've worn it, I'm totally in love. It's beautiful and SO comfy! Even with my chunky 28lb 20 month old, it is fabulous! Nothing like the Ergo, which was not comfortable at all! It's going to make life so much simpler around here as my little 7 week old loves to be held about as much as he loves to nurse (which is a lot!) Now I need to come up with the money to get another one for my husband, and for when I want to wear them both…'cause this is even 10x better than the Babyhawk I loved before I tried this, LoL! Thanks for answering all my questions about it!

Email from Day #3
"I've used my Butterfly II every day since I got it – it's wonderful! In fact, my husband owns a landscaping business, and all my boys can't wait to work with him when they are older. My husband wore the Beco while mowing our lawn one day, and the little boys though it was the most awesome thing! Now I realize I need a solid dark color for my husband so he doesn't keep stealing mine and getting it dirty! 🙂 With 6 kids ages 8 and under, I don't know what I'd do if I hadn't found this carrier. The day I got it, my husband came home, and the floor was mopped, the carpets were vacuumed, all the dishes were done, and the kids were happy! I usually can't get all that done before he gets home because with the 3 babies, I'm always having one wanting to be cuddled and spend time with Mama! But they think going on my back in the carrier is a great way to do that, and then I can still get things done!
PS – My 2 year old is 28lbs, 1 year old is 26lbs and my 7 week old is 13lbs, and the Butterfly is super comfy with all of them!"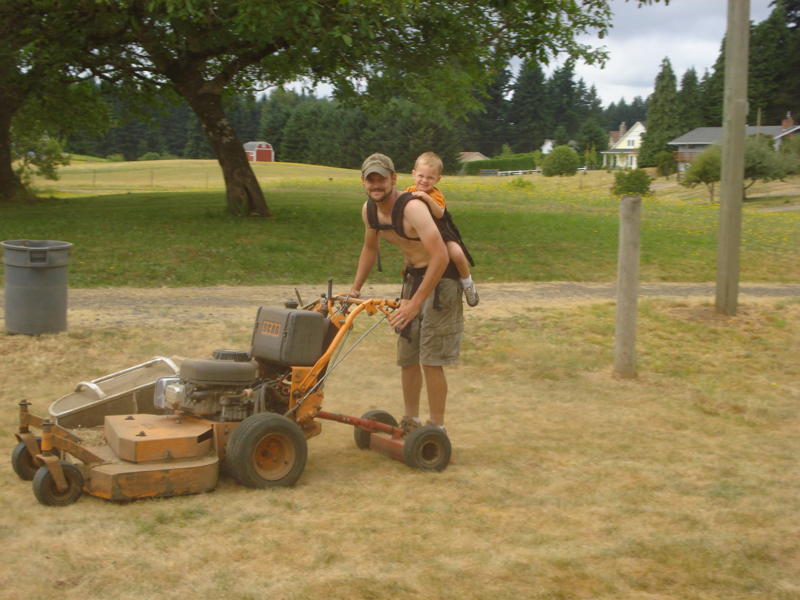 Thanks for the awesome feedback, Kristen! For all you busy mamas, get your mommy work done with a happy baby on your back! If you need help choosing which baby carrier is the right one for you, email me!!! Or rent a couple at PAXbaby's Sling Exchange!