The Fluffy Bottom Blog Post
Having cloth diapered babies #1-5, I consider myself to be well versed in the topic of diapering and can hold my own in the cloth versus paper dispute.  However, in my years of diapering, i haven't come across anything as pure and simple as this disposable diaper test by zrecs.com.  These people are my heroes already, but now that they tied dirty diapers to their arms for a day, they are on a pedestal so high I can't even see them!
I get asked all the time "what is your favorite cloth diaper," and the truth is, I love them all!  Nothing better than swaddling your baby's buns in squishy cloth instead of a crinkly paper diaper!  Some brands that are tried & true are BumGenius & GroVia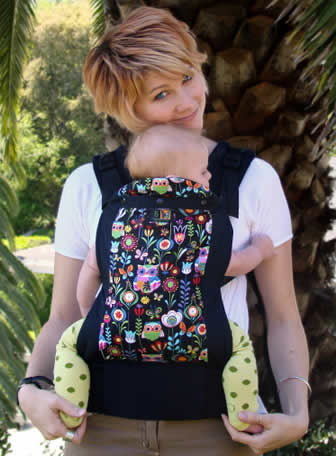 (previously GroBaby) and the WAHM diapers made by Muttaqin Baby (pictured below on Baby #5) and the All-in-One diapers by Mum's Bums!  As far as a diaper that is affordable, but easy, and very well made, check out MotherEase available at Expressed Luv's store online & in Monterey, California! Mention PAXbaby and your baby's gender, and you will get a FREE pair of baby leg warmers (the perfect baby carrier accessory!) with your diaper order! I have been recommending MotherEase cloth diapers for years and love the reaction to them by cloth diaper newbies, "But they are as easy as paper diapers!"  EXACTLY!
This is Baby #5 enjoying the feeling of natural bamboo on his newborn tushy!  Nothing better than having your bottom swaddled in soft cloth!
*happy babywearing* and *merry cloth diapering*