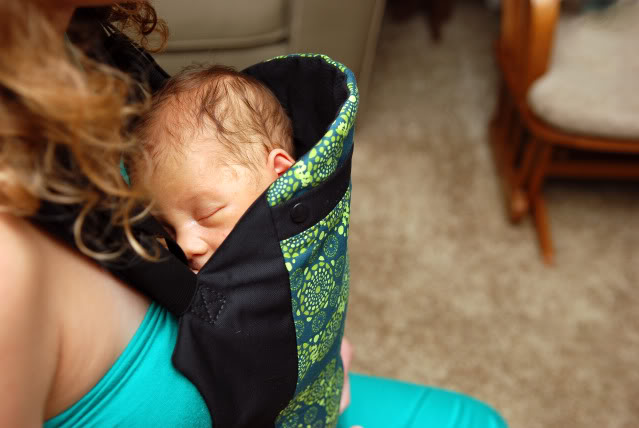 With the approach of the Beco Gemini's release getting closer day by day (no date announced yet, just "end of Spring") PAXbaby is getting more & more excited!  As I'm sure you are!  I have been receiving a lot of questions about the differences between the 2 Beco baby carriers, the Gemini and the Butterfly!  As a baby carrier expert and Beco aficienado aka SuperBecoGirl, I can help you figure out which Beco will be right for you and your family's needs!  As soon as the new Gemini is ready, PAXbaby will be shipping same day thanks to being practically next door neighbors to the Beco headquarters in Southern California, and our stock of Beco Butterflies is growing daily thanks to some special new Exclusive Editions that have just arrived!
The Butterfly weight limit is 45 pounds, but the Gemini is weight tested for up to 35 pounds.  If you are looking to carry a larger child, the Butterfly II will last you longer than the Gemini, however both carriers can be used starting with 7 pound newborns.
The Gemini has the ability for baby to be front carried facing forward and also towards you, so breastfeeding is a cinch, but if your babe wants a few minutes facing out to see the world, that is possible also.  The base of the front panel snaps back making the crotch narrow  enough to allow small babies to sit comfortably.  Neither Beco Baby Carrier nor PAXbaby recommends front facing out for extended periods of time due to baby's overstimulation and the fact that it is more comfortable and more ergonomic to have baby's body curving into the parent's body instead of away in a front facing out position!
The Butterfly II has the removable infant insert and the integrated internal harness for older babies.  The infant insert is a nice option, but truly usable for a short period of time before it lifts baby up too high and needs to be removed.  The internal inserts hold baby within the carrier so one parent can easily take baby off to put on the other parent or to lay a sleeping baby down without disturbing their rest.  The Y shaped piece of fabric which is the integrated insert means that putting your baby on your back is simple and easy with a basic hip scoot or putting the Butterfly on like a back pack!  Babywearers have worn their babies for hundreds of years with out this option so with the Gemini, the babywearing parent will be required to learn to put baby on with either the Superman or Santa toss, the hip scoot, or with older children, simply having them climb onto the parent's back.  Believe me, it IS easy once you learn, don't be intimidated by the Gemini because of this,  but do keep it in mind!
The Butterfly II has an intense # of buckles and rings present on the carrier – 8 in fact, and while you don't have to buckle each clip every time you put the carrier on or take it off, for the babywearing parent looking for a soft structured carrier with more simplicity, the Gemini is your style!  Safety is still top priority so the Gemini features the safety buckles first introduced on the Butterfly I, but it is less complex than the Butterfly!
One feature of the Gemini that I am really looking forward to is the crossing of the shoulder straps!  Each shoulder strap can be unbuckled and rebuckled across your back, and this X position of the straps is delightfully comfortable especially with a heavier baby!  The Butterfly straps can be unthreaded and rethreaded in the same position but because the Butterfly carrier wasn't designed with that in mind, it is not particularly comfortable and not recommended by this Beco mama!
Ideal for shade or napping, the Beco Butterfly hood attaches to the body of the carrier with snaps and can be completely removed when not in use, folded, and stored in the pouch at the front of the waistband. The Gemini features a headrest which can be folded down for when baby is front facing out, or for better viewing purposes for baby, but it does not come with a hood.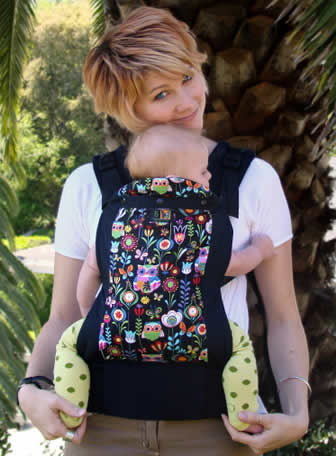 In a nutshell:
Butterfly II
removable infant insert
integrated insert
possible to pass baby in carrier to other parent
breastfeeding is possible
sun shade/ napping hood
chest strap for backpack style wearing
easy back carrying
carries children up to 45 pounds
Beco Gemini
no removable infant or integrated insert
breastfeeding is easy
possible to cross shoulder straps
chest strap for backpack style wearing
foldable headrest
front panel folds in and secures with snaps for front facing out position
relatively easy back carrying
carries children up to 35 pounds
Both the Gemini and the Butterfly II are beautiful, organic,  versatile, comfortable baby carriers.  The Beco Butterfly provides all the bells and whistles for all babies up to 45 pounds.  The Gemini is a tribute to an old favorite Beco style, the 4th Generation, and is equally comfortable but more basic.  You and your baby will be happy in either Beco style, but if you still need help deciding, why not think about renting both the Gemini and the Butterfly to see which you personally prefer!  Please let me know if you have any more questions; you know I am happy to help!
*happy babywearing*