After yesterday's guessing game, I was amused by all your ideas! Some of my favorites were:
"I have no idea but it sure is cute!" Elise
"Tell me, I need it!" Brianne
"hmm, not a Beco, doesn't look like an Ergo, Oh Snap, Angelpack, or an Olives and Applesauce… Doesn't look like a Action Baby Carrier or a Dream carrier. Maybe a Pikkolo? this is driving me crazy…" Beki
And Michelle had the right answer, "Yup, Manduca Sky Line Plum! Pretty!!"
This gorgeous SSC was my little present to remember Australia by… Glad to have you, Manduca, but so sad not be in Australia right now, sob! Interestingly, due to Ergo's wanna-be monopoly of the Soft Structured Carrier market, the Manduca baby carrier company may not sell these cuties in the USA, so all you American moms can sigh, cry, rant, or rave at Ergo and their finky business practices right now. However, all you Canadian moms, this SSC is right up there on my list of favorites so you may want to slip a hint to your hubbies for your next birthdays!!!
There are a lot of sweet details and "interesting" parts of the Manduca that grow with baby from newborn through toddlerhood! It is of German heritage, but the regular line of carriers is manufactured in China while Special Edition collection is made in the Czech Republic, but all Manducas are an organic cotton/hemp blend with the generously cut waistband and the elastic bands to rein in the dangling straps. The infant insert is similar to the Beco Butterfly's insert, but the tabs of the insert curl around the outside of the carrier in a most alluring and European way! This infant seat has a narrower crotch so that the baby is seated in the infant insert, with legs out, but still within the confines of the carrier. Once baby is ready to sit frog-legged inside the carrier or have 1 or both legs come out, the infant insert can be rolled up and secured within the base of the carrier.


Remember, a narrow crotch carrier (aka crotch dangler) offers no support for baby's legs, knees, feet… All of baby's weight is pointed towards that 1 spot, the base of the spine where the carrier is holding them. The Manduca, and all the other wonderful baby carriers that we love & adore here at PAXbaby, support baby's entire bottom, and with young babies, down to their knees! This seated position is extremely important to keep baby ergonomically comfortable and to distribute baby's weight across his whole body instead of that 1 spot. The strap padding that continued alllll the way down the shoulder straps is a nice added touch, and also the extra buckles on the shoulders that ensure a truly customizable, snug fit for baby. Being able to cross the shoulder straps is always a nice bonus too!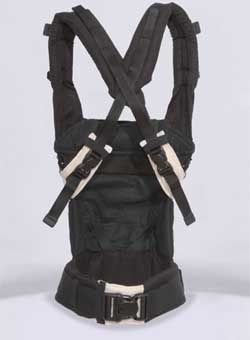 The Manduca shines as a front and back carrier! The hip position is just ok, but I feel that all of my favorite SSCs are capable of hip carrying, but why would I want to, I have a Scootababy, hahaa! The hood is removable and clips onto the shoulder straps with a satisfying *clip* ! To get baby on your back, you will need to hone your skills at either the Superman Toss, or the Hip Scoot, but either way, the back carry was easy peasy to adjust! The buckles are all very smooth and easy to tighten and let back out for another babywearer to use. The racing stripes on this Plum Skyline really amused me too, and I appreciated the fine details like the matching fabric being used on the infant insert & hood also!
When I said that the Manduca grows with your baby, I meant that literally!!!! The body of the Manduca appears to
be petite, measuring in at 33 centimeters, while comparing it to a favorite, the Beco is almost 41 cm tall! As another comparison, the Ergo is 35 cm. Why is the Manduca so short, you may be asking yourself! How can the Manduca possibly carry toddlers up to 45 pounds easily? Because with a simple wave of your magic wand, ABRACADABRA, the front panel unzips and becomes 8 cm taller!!!! Magically, your Manduca becomes a toddler carrier, and a very good one at that!
I love it, can't wait to wear it again, and wouldn't mind letting you "borrow" it if you wanted to give it a whirl with your own baby! Thanks, Manduca, for a great SSC!
*happy babywearing*