At first glance I knew I would like this Soft Structured Carrier with its peaceful color scheme and its straight forward design.  Once I got to know Boba a little bit better, I liked it even more!!! As an eco conscious family always striving to be greener, both my husband and I loved the idea of an organic baby carrier made in the USA., but Nap Inc took the Boba baby carrier beyond our thoughts and provided us with the Boba 2G, the second generation of their backpack/ frontpack that caters to older, taller babies. Manufactured in Boulder, Colorado (get it?  Bo-ba?  Boulder Baby!  Cute, huh!?!)  I feel great about wearing a carrier that is providing jobs for local workers, keeping the economy stateside, and is just so comfortable!  I would love for you to give the Boba a try also taking advantage of PAXbaby's fabulous carrier rental program or our easy 90 day return policy!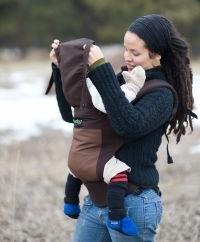 Now, onto the details! The optional sunshade can also be used a napping hood or windbreaker, and folds up neatly into the front panel with the help of 2 neat elastic little bands. To connect it to the shoulder straps, reach it up and snap the hood at the desired length on each side. The sleeping head also makes for the perfect discrete nursing cover! No one will even know what you 2 are up to under there! When in use, make sure there is some slack in the hood so that your child's face isn't pressed too snugly against your body. You always want baby's nose & mouth clear to ensure that they can breathe. If you and baby decide unanimously that the hood is simply not for you, removal of the fabric sunshade is made easy with 3 little snaps, and you can stash the hood away in your closet for your *next baby,* wink wink!
For front carries, buckling the chest strap can be a test of dexterity, but keep in mind that the lower on your back you make get that strap, the better you will be distributing your baby's weight across your whole body, not just your upper back and shoulders. The double shoulder straps adjust easily by pulling away from your body or through the buckles on the carrier as well for that extra support you may need hiking or for longer front carries.

For back carries, the chest strap keeps the shoulder straps snug and comfortable. The waistband is nicely contoured with just the amount of padding to hold my baby's weight without making me feel like a football player! Some baby carriers also have the tendency to make a lot of cleavage where you don't usually have much, but the shape of the Boba shoulder straps avoid that!  This video shows a back carry in action, but don't get the mother's own belt confused with the Boba waistband!
My son's favorite part of his Boba?  The foot straps aka Boba's ingenious & now removable foot stirrups!  Boba has made a study of toddler babywearing and come to the conclusion that to be truly ergonomic for baby also, your baby carrier should support your child's feet while being worn.  I was neither here nor there about the foot straps until my 18 month old was absolutely thrilled to be given a place to rest his feet!  I realized that during the hours that I am wearing my little boy, unless I am holding his feet up, his poor little legs are just dangling. What a relief to have somewhere to rest his sweet legs and to help keep his body in a healthy sitting position!  To quote Boba, the "perks of leg support:
provide proper leg support in the flexed abducted position
naturally tilt the pelvis, fills out hip sockets, aligns spine
the more leg support the less pressure absorbed by the spine
takes the pressure off of the hamstrings
reduces the leg dangle
gives feet a place to rest
ensures complete blood flow throughout legs
no pinching of the major nerve behind the thigh"
After that list, how can you NOT want to try the Boba!  Plus, you've probably already heard but each carrier is made from totally organic materials!  The Boba is 100% GOTS and OE100 certified organic cotton and filled with 100% organic Texas cotton lining, and as soft as can be!!!  Thanks to the toddler sized front panel, the Boba can support kids from ages 6-9-12 months (depending on height, of course!) to around 4 years.  The height restrictions are listed as 15-45 pounds, and just in case you were wondering, the Boba's measurements are:
body 15 inches wide and 16 inches tall
19 inch shoulder straps that extend an additional 19 inches
28 inch waist belt that extends to 50 inches
5 inch waist belt
total weight of the carrier: 1.8 pounds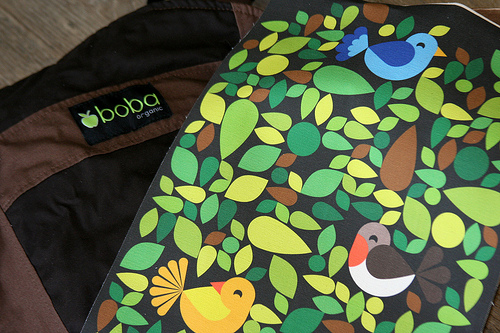 Also as useful information to know when recommending carriers to friends, the old Boba was lower priced, but also had fewer bells & whistles…  The foot straps were NOT removable, and there was not a hood of any kind.  The waist buckles were those "impossible to work with 1 hand" safety buckles, and the waistband was not as comfortable as today's fabulous 2G!  Now, enough reading, get planning!  You can buy a Boba, rent a Boba, or pre-order a Boba!  What is a babywearing mama to do!?!