My 18 month old is a nursing fanatic!  A boobie monster!  A breast leech!  A breastfeeding advocate!  And a sweet, adorable baby boy who still spends a lot of time in my baby carriers and who loves to dance in circles and read books by the dozen!
When we are out & about, this is where you will find my youngest child, content, happy, nursing away, and calmly observing the world from the safety of my arms.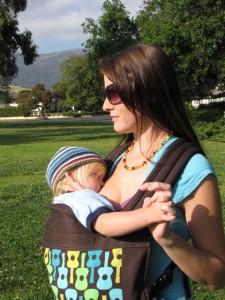 Love it and have to have it?  PAXbaby's exclusive Dylan Oh Snap by BabyHawk!
Love it and need instructions?  Begin with baby in the upright position, and cross the shoulder straps to give you more back support.  Loosen the side where you will be nursing.  Slouch baby towards your breast and latch him on, and tighten the shoulder strap so that the Oh Snap! is holding baby's head at the right level and angle – NOT your arm or hand.  The goal is to be hands free, although my little one insists on holding my hand while nursing!  Babywearing and breastfeeding can and should be comfortable and easy, but practice makes perfect!