OK, so the whole time difference really threw me off, oopsies!!!  HAPPY February, everyone!!!!  PAXbaby is celebrating Valentine's Day with 13 days of  Peace & Love leading up to the big HEART day itself!  With so many little kids around, a lot of love is thrown around every day, but we harnessed our top favorite LOVES and will present them each day to you!  Along with some wonderful blog entries from moms who also wanted to share their LOVE with you!  Happy February, happy Valentine's Day (almost), and as usual, happy babywearing!
---
Homemade Pretzels by PAXbaby mama, Jillian
I'm a black thumb when it comes to gardening, I am not much of a cook, and I can't sew a straight line worth beans.  But give me a (relatively) simple recipe to bake, and I can pull it off with (relative) success!  The only thing is, I have to be able to make the recipe while wearing the baby!  Otherwise, he ends up on the table, getting flour in his hair, and no one, not even his grandma, wants to eat a treat that he has had his paws in!
So, when I found this pretzel recipe, I decided to give it a whirl with the kids, and it was an instantaneous hit!  By the time the big daddy got home from his errands, every last pretzel had disappeared into our growly tummies!  I made a few amendments, and developed a treat version also, perfect for Valentine's Day!  We've made this recipe almost weekly even while traveling through Australia, it is THAT easy!  Keep in mind, this recipe doesn't make traditional Bavarian pretzels, but kid friendly, delicious doughy pretzels that you can make in batches for special occasions, school parties, and just for your own family's enjoyment! 
PAXpretzels – will make 8 large or 10-12 small pretzels
1 teaspoon instant yeast
1 tablespoon brown sugar
1 teaspoon salt
1 tbsp cinnamon (less or more depending on your love for cinnamon)
1 cup warm milk (1 minute zapped in the microwave)
2 1/2 – 3 cups all-purpose flour (add more if the dough is still wet)

Preheat to 425 degrees & set a pot of water to boil.
Combine & mix the first 4 ingredients.
Start adding in 2 cups of flour, and add more slowly while stirring (beware the white poof if you add the flour too quickly!)
You're looking for your dough to go from a thick batter to a bread like dough that you can hand knead.
Spread a handful of flour on your clean (no children's tongues have licked it, please!) surface, and hand knead your dough for 5-10 minutes until the dough becomes smooth & satiny.
Cut the dough into even pieces and roll into short snakes.  Let the dough relax for 10 minutes, and stretch the snakes longer.  Shape into pretzels, roll into cinnamon roll shapes, or pinch the middle and curl the sides around into hearts.
Boil each pretzel for 5 seconds and place on a greased cookie sheet. Sprinkle each PAXpretzel with a cinnamon sugar blend.
Bake for 8-15 minutes depending on the size of the pretzel! Eat as soon as you can without burning your tongue!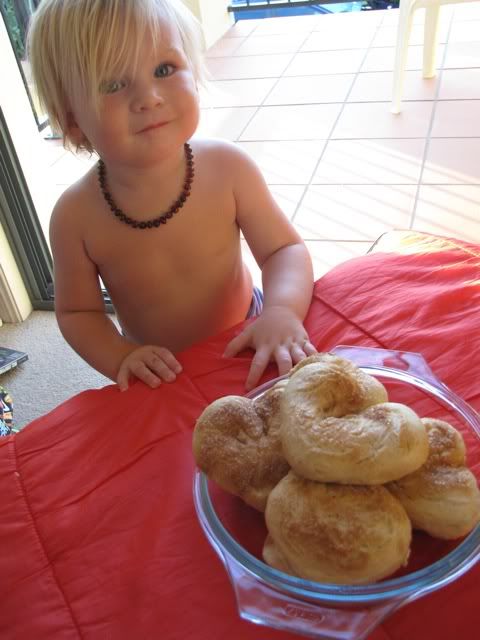 All done, mama!
Aren't they BEE-You-T-FULL???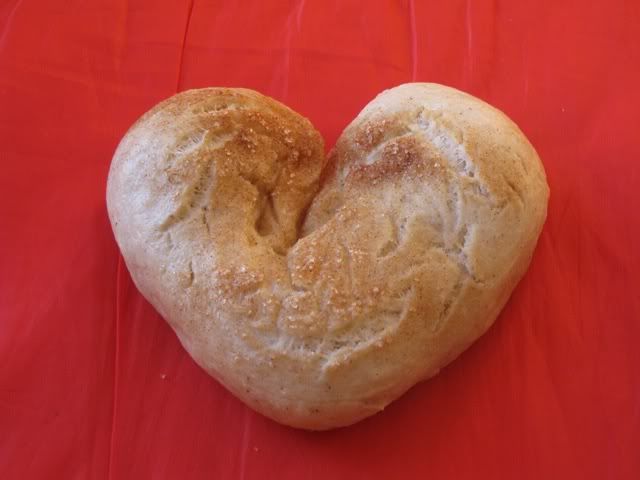 A yummy heart just for my little love!
---
From Katie at BabyBumbleB.
I wanted to be a mommy my whole life. I wanted a baby. I want to feed a baby and clothe a baby and change diapers and rock a baby to sleep. I loved to soothe crying babies and cuddle babies and kiss baby cheeks. I baby sat, had 30 cabbage patch dolls, tried to surround myself with babies every moment I got!
I knew a mother's love for her child was like no other I heard the moms say "I never knew love until I had my baby". I wanted that love. I saw babies only want their mommies when they were scared or sad or even just happy. I wanted a baby to want me.
I loved my baby like that the second I knew he was there. I felt that connection from the first fleeting thought of curls, rosy cheeks, and smiles. I knew what I would have with my baby would be extraordinary!
Sure enough, I had Austin. I loved him exactly like I knew I would. People asked me "did you ever imagine you would love someone so much?" I just smiled and shook my head each time, but honestly, I thought the answer "yes," every time. I knew how I would love him. I knew he'd be irresistible to me. I knew that huge vacant space in my heart would fill, and be overflowing, with this indescribable feeling for my baby.
The moment I heard his cry in that OR Thanksgiving morning, not knowing if it would be there or not, put all of the pieces of my life together. There was that baby, healthy and here, ready for me to love with every ounce of love I already had for him, have for him, and okay, probably a little extra that I couldn't imagine I'd have!
Motherhood makes me so happy. I love it. I love knowing the different cries he makes & knowing exactly how to fix it. I love knowing exactly where to tickle him so that he smiles and squirms. I love knowing that when he's sucking on his pacy & his eyes get really big, it means he's hungry & wishing it wasn't a pacy at all. I love knowing that he likes to copy me when I stick out my tongue or make AAAH sounds. I love knowing the perfect combination of swaddle, sleepy, and music makes him comfy & dreammy in his bassinet, but that he'd really rather cuddle with me. I love his exasperation when I text on my blackberry instead if singing his favorite song, which I love knowing is Father Abraham. I love weighing him every week and seeing him grow before my eyes with nourishment that only I can provide him. I love that "nom nom nom" sound he makes when he's nursing. I love noticing when he does new things, like noticing his mobile for the very first time. I love that he looks like me. I love when he makes new noises. I love that I know exactly where to pinch his cheeks to make him giggle. I love when he squeals because he's so excited. I love when he pees on me, even though it's gross, it's so so funny. I love showing him off to my friends and family. I love knowing they love him too. I love that I forgot my birthday because I was so wrapped up in him. I love taking hundreds of pictures of him & I love looking at them over and over again. I love that my instincts know exactly what to do. I love when I look over at him and he's just gazing at me smiling. I love that my heart melts & my eyes well up every time I remember that memory. I love that I feel this way about him.
I love being his mommy. It's the most wonderful thing I've ever done in my life.