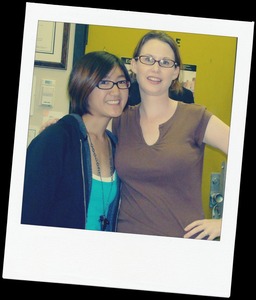 What life lessons did you learn from your teachers when you were younger that you still carry with you today?
PAXmommy Jillian came across this unique and beautiful story of how a mentor relationship between a student and teacher continued long after high school was over :
The relationship between former student Frances and her teacher Christina Singhi, or as she was known  "Miss Rouw," started many years ago when Frances was still a sophomore in high-school.  Christina quickly became Frances' mentor, and showed herself to be someone who not only taught her pupils subjects in school, but lessons in life.
After Frances graduated, she continued to keep in touch with Miss Rouw (Christina) and frequently came back to visit as an alumni.  She watched as her teacher got married, and then became pregnant with her first child. Christina never pretended life was easy, as some adults do; Frances watched her  balance life as a mother, as a woman, & as a teacher.
When Frances herself became a mother, Christina was the first one to show her the ropes.  She introduced her to a whole new world of parenting filled with cloth diapers, ring slings and babywearing meetings.  As Frances said, she "would still be sporting a crotch dangling Bjorn and sending megatons of diapers to the landfill if it wasn't for her!" Christina even lent Frances her very first ring sling… and well, like the rest of us, the rest is history… Frances is now the proud owner of 2 Wrap Conversion Ring Slings, 2  Girasol Woven Wraps, a Natibaby wrap, and two meh dais.
It is not often that you hear of a teacher so invested in their student's lives, especially after they graduate and leave high school. Think of how many people in today's society would benefit from having a solid mentor like Christina!!! Amazing!!!
 "I have become the Mom my daughter needs, the ideal Mom in ways I never thought I could be with the help and guidance of Christina. Yes, her job is being a teacher, but what she may not realize is that she continues to be my teacher off the clock."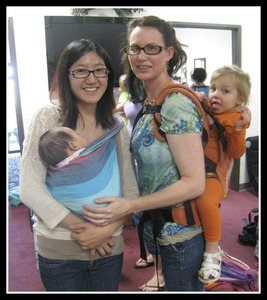 What Frances may not realize is that Christina benefited from their friendship as well! Seeing a student grow up and as Christina said, "become a beautiful young woman, mother, wife, and photographer reminds me of why I do my job." It must be a wonderful feeling to look back at your students and see how you were able to help someone.  Christina is able to look at Frances and see the growth, see the journey from awkward teenager to woman.  Teachers have an important role of not only mentoring and teaching their students, but also helping them learn how to grow as individuals.
Thus Christina and Frances' relationship grew from bonding over textbooks, to bonding over diapers and baby slings. As an educator, Christina continues to share the babywearing love whenever she can, and hopes that Frances (with her new found addiction) will teach her how to use a ring sling and a woven wrap with a new squish of her own one day.
Stories like these ones are SO heartwarming. Who got YOU into babywearing?? Was it a teacher? Your own mother? Your best friend? We want to hear YOUR stories.