So let's kick off Thanksgiving with a list:
TEN reasons to be thankful for babywearing.
1.  Close enough to kiss… need I say more?
2. Babywearing makes multi-tasking so easy.

3. Babywearing daddies are THAT much hotter.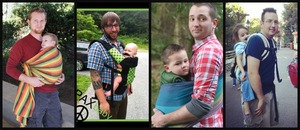 4. An easy way to do skin to skin contact if your little one isn't feeling well.
5.  Babywearing makes you feel glamorous & at times… supermom.
6. Babywearing makes nursing on the go easy peasy.
7.  Your baby can see & explore the world from up high!
8. Babywearing parents go places that strollers could never dream of  going.
9. Babywearing helps strengthen the bond between parent & child.

10. Babywearing never goes out of style.
Here at PAXbaby we would like to thank all of our PAXfriends, fans, and family for all of the love and support!!
PAXbaby would not be PAXbaby without all of YOU!
From all the PAXmommies,
Happy Thanksgiving!!
Keep spreading the babywearing love!